We Look Forward To Hearing From You!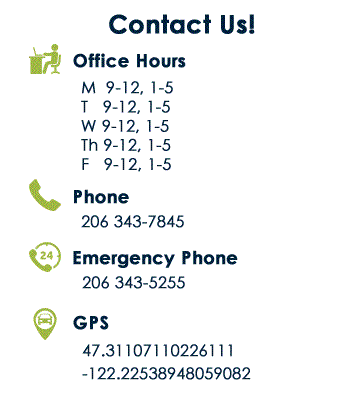 What Should You Consider When Looking For A Dentist In Auburn? Do These Things Really Matter? Definitely!
Are you looking for a dentist in Auburn, Washington? We have been serving the Auburn community for years and are looking to provide our family dentistry services for many years to come.
We are often asked by new patients what we believe are factors that should be considered when someone is evaluating a new dentist.
While we will outline a very strategic approach to identifying your new dentist, the number one consideration is… "Do you like the person?" Remember, this is someone that is going to be digging around in your mouth, at least a couple times per year, over the next several years.
A Checklist Of Some Of The Top Considerations
Ok, with that said, let's go through a simple checklist of top considerations of finding a dentist in Auburn, Washington.
Schedule:

Listen, if the office hours of the dentist simply aren't conducive with your schedule, your quest for a "dentist near me" will be one fraught with constant friction, and that simply doesn't work.

Transportation:

What about the ease of access? Can you get to the dental clinic without huge traffic issues? Is there adequate parking or will you be forced to drive in circles hunting a parking space for 15 minutes?

Experience:

What type of education and training does the doctor have? Do they have the type of training well-suited for the type of dentistry you are requiring? What about ongoing training? Is the dentist interested in new and upcoming technologies and procedures that will end in better overall results at a lower cost to the patient? What state board certifications does the dentist maintain and are these certifications consistent with the type of dental care you need?

Viewpoint:

We have an entire page regarding preventive dentistry, as this is one of the most important approaches any of us can take with respect to our oral healthcare. What is the dentists view on preventive processes? Do they have a strategy? Do they have a plan? Do they communicate this plan?

Certifications:

Are you a patient that is going to require any type of surgical procedure? Do you need a root canal or require wisdom teeth removal? If so, what is the anesthesia certification does the dentist have?

After-Hours:

While no one ever wishes to have a dental emergency, what type of arrangements or agreements does the dentist have to tackle emergencies that don't take place during normal office hours?

Terms and Conditions:

What happens if you need to miss an appointment? How much prior notice do you need to give? How is this dealt with?

The Initial Office Visit:

After you've visited the office for the first time, how was the overall experience? How was the staff? Were they professional? Do they put the patient first? Is the office neat, clean, and operating in an organized manner? Does the staff take cleanliness seriously, with everyone continually wearing gloves and gear that provides protection?

Costs and Payment:

Once you've had your initial consultation and specific procedures are recommended, if necessary, are you provided with an estimated cost of these procedures? What are the payment options? Which dental plans are accepted?
As stated above, we have served Auburn for years and we take our role within the community with a great deal of respect. We have positioned ourselves in a central area to make it convenient for your visit. Our entire team is continually trained in the most cutting edge procedures and we ensure dentistry best practices from the way in which we handle emergencies to the way we deal with missed appointments.
Next Steps
We strongly encourage you to schedule an initial consultation. Let's meet. Let's see if we have a good fit for us to be your trusted advisor with respect to your oral healthcare for the years to come.
Simply call us or fill out the form on this page. We look forward to meeting you!